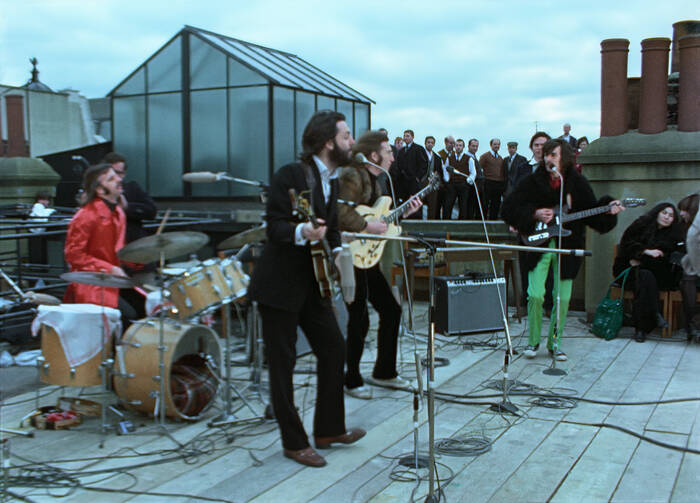 Think you know what the Beatles' last days were like? The Disney + "Get Back" will shatter your assumptions.
This past holiday weekend, you may have noticed a variation on the traditional Thanksgiving food coma that gripped various family members, friends and neighbors. This new condition – I'll call it the Beatles blackout – is characterized by fanatical attention to detailed dissections of the moods and statements of four Liverpudlians in their twenties over the course of 21 days in January 1969. Those who suffer from this disorder, and I count myself among them, could be found firmly planted on the couch with their eyes glued to a screen watching (and seeing again) "The Beatles: Get Back".
The eight-hour documentary that airs on Disney + over three days over Thanksgiving weekend is a dream come true for obsessive Beatles fans – who number abound – not to mention pop culture historians and Beatles academics (yes, that's a real thing). But for the more casual fan of this era of endless on-demand streaming, "Get Back" may prove to be a test of the outer limits of his patience and interest in the creative journey of artists as beloved as the Fab Four.
Peter Jackson's success with "Get Back" is revolutionary in the way it shatters long-held assumptions about the last days of The Beatles.
Directed by Peter Jackson, the Oscar-winning filmmaker responsible for the maximalist "Lord of the Rings" and "Hobbit" trilogies, "Get Back" is a feat of technical mastery in its very existence. Jackson spent four years browsing 60 hours of 50-year-old movie footage and over 150 hours of audio, then used cutting-edge digital restoration techniques to put "Get Back" together. Still, the film's technical accomplishments aren't all that surprising when you consider that Jackson and his crew were also behind the groundbreaking World War I documentary "They Shall Not Grow Old," which transformed footage from 100 year old black and white war. into a vibrant color cinema.
Jackson's success with "Get Back", however, is revolutionary in the way it shatters long-held assumptions about the band's final days. While the prospect of spending Thanksgiving with his own dysfunctional family may be a cause of great distress to many, before Jackson's "Get Back", the thought of spending the holidays with the Beatles around January 1969 might have been exponentially more unsettling. Since the 1970 release of the original 80-minute documentary from that period, "Let It Be," directed by Michael Lindsay-Hogg, the consensus was that the group's last year together was a miserable final chapter filled with resentment and bitterness. . In the original film, the once adorable mops who told the world "all you need is love" are reduced to petty bickering and miserable, brooding looks. Jackson's "Get Back" is taken almost entirely from unused footage from the same "Let It Be" sessions, but in its expansive narrative, it's a much different story.
Obviously, all was not well in the Beatles' world back then, and "Get Back" is in many ways the portrayal of a bittersweet musical divorce.
Certainly, as with our own family reunions, when The Beatles put together certain archetypes emerge. There is Paul as the authoritative aunt, leading the proceedings and making sure everything is under control and taken care of; Meanwhile, in the corner, younger brother George is quietly seething with a build-up of slights stretching back years. Then there's the oblivious older brother, John, who brings his new girlfriend to the affair while the rest of the family remain deeply ambivalent about whether she's a good fit. Finally, there's the ever-devoted brother, Ringo, who stays out of the fray and just wants people to get along while they're at the table.
Obviously, all was not well in the Beatles' world back then, and "Get Back" is in many ways the portrayal of a bittersweet musical divorce. At the time of filming, The Beatles were already an unrivaled phenomenon sitting on top of the mountain of pop culture and constantly working for years. They had sold over 300 million records worldwide and traveled the world, performing in huge outdoor stadiums even before the infrastructure of the concert industry as we know it today existed. They were so tired of this chaos that they decided to stop touring altogether and focus on creating in the studio, where they began to revolutionize and redefine the possibilities of pop music.
Perhaps more importantly, the Beatles were now self-managed, as they were only 17 months away from the untimely death of their longtime manager, Brian Epstein, who had been a constant guiding force since 1962. McCartney, reflecting due to some of the grumbling in the group, comments in the second episode that "we probably, really need some kind of central daddy figure".
In truth, taming the colossal beast the Beatles had become in 1969 would probably have been an impossible task. At this point, their other father figure, producer George Martin, was still alive and well and in the play, but in "Get Back" they rarely seem to pay him any attention. The reality was that John, Paul, and George had been performing together in some form of band since they were teenagers in the late 1950s. It's hard to shake the feeling that a decade later, John and George feels they are being asked to enthusiastically contribute to an Alma Mater to which they had already given enough and from which they were already due to graduate.
There is another context here which is too often overlooked. The Beatles weren't just writing amazing songs, they were also creating a paradigm that didn't exist before them. Before they burst onto the scene, the closest to a standalone group that wrote their own material was Buddy Holly and the Crickets. There really was no model then or now for what they did or how much success they had. In perfect hindsight, it can be frustrating to listen to George Harrison lecture Paul about how Bob Dylan and The Band made records. "That's great, George," I found myself thinking, "but you're in the Beatles! They simply had no point of reference to help them understand how important they were and would remain in the public consciousness decades later.
The Beatles weren't just writing amazing songs, they were also creating a paradigm that didn't exist before them.
And yet, as "Get Back" once again confirms, McCartney somehow gets it. At the age of 26, he seems to understand on some level that The Beatles are important and that people will still care about the music they made half a century later and beyond. It's an early sign (confirmed over time) that McCartney himself has always been as big a Beatles fan as the rest of us. His bottomless well of ideas and desire to continue to push the group forward seems less about arrogance and control and more of a supernaturally mature understanding that what they have together is extraordinarily rare and special. , and that to let him die – that's what happens. – would be a tragedy.
In a particularly candid moment regarding the tensions surrounding John Lennon's insistence that Yoko Ono be with him at all times, McCartney remarks in Episode 2: "Well, I think so that they can compromise, I have to be able to compromise first. Then they can. But that's silly, neither of us compromises. He adds with alarming prescience: "It's going to be such an amazing kind of comedic thing that in 50 years' time. 'They broke up because Yoko was sitting on an amp.' "Get Back," at the very least, definitely ends the ridiculous debate over whether it was Yoko's or Paul's fault that the Beatles broke up. It was the Beatles who broke the Beatles.
With its breathtaking stretches of their long rehearsals and unruly recording sessions, "Get Back" also reveals that alongside their exhaustion at being The Beatles, there was an undeniably deep affection and respect between the four of them. . For all the moments of tension and dull conflict we witness, we see many more examples of relationships touching each other in their vulnerability and concern for one another.
What "Get Back" shows very clearly is that, in terms of sound and song, something magical and magnetic happened when John, Paul, George and Ringo got together.
For example, while working on the lyrics to the song "Get Back," McCartney sits across from Lennon and watches him get his approval as he scratches and sings, "Jo Jo left his house in nuh nuh Arizona. He tries out different words that might work well in a song – a very high standard that the Lennon / McCartney song catalog has always maintained. When McCartney lands on "Tucson, Arizona," Lennon watches him with a scintillating sense of gratitude that he has really hit the mark. "Is Tucson in Arizona?" Lennon asks. It's a little window into what must have been a eureka moment that the duo had experienced countless times since their teenage years.
One morning, as they show up for work, George Harrison – who seems deeply frustrated as he tries to get Lennon and McCartney to work on his songs – asks McCartney a little sheepishly: "Do you want to hear a song that I wrote last night? McCartney begins to take an interest in it when George starts playing "I Me Mine". Likewise, during a lull, Ringo Starr begins playing Harrison the outline of a new song called "Octopus's Garden" on the piano; Harrison walks up with his acoustic guitar and gently helps him determine where the song should go next. (One of the many pleasant surprises that occurs during Jackson's film is the revelation how the "Let It Be" sessions essentially ended in a dry try for most of the songs that eventually appeared on the conductor. – The Beatles' final work, "Abbey Road.")
The great contribution of Peter Jackson with the monumental "Get Back" is that it has in some way provided us with a chronicle of the Beatles' creative process that is at the same time fascinating, tedious and indispensable. It wouldn't surprise me if Disney + pushed for a condensed, long-lasting version of Jackson's eight-hour final cut to attract the less obsessed Beatles fans among us. But given the director's recent statements and the temperamental nature of the Beatles Apple Corps media company, I won't be holding my breath.
I'm not convinced that the lack of an easier to digest version would be much of a waste anyway. Fifty years from now, people's love of The Beatles and their music will not be based on Jackson's epic document; it will be rooted in the group's astonishing musical production between 1963 and 1969. What "Get Back" clearly shows is that in terms of sound and song, something magical and magnetic happens when John, Paul, George, and Ringo reunited during this over six-year period. "Get Back" allows us a rare peek behind the curtain to see how the magic was done. For those who love her deeply, whether that glance lasts eight seconds or eight hours, that's not really the point. In the end, it all just comes down to more magic.