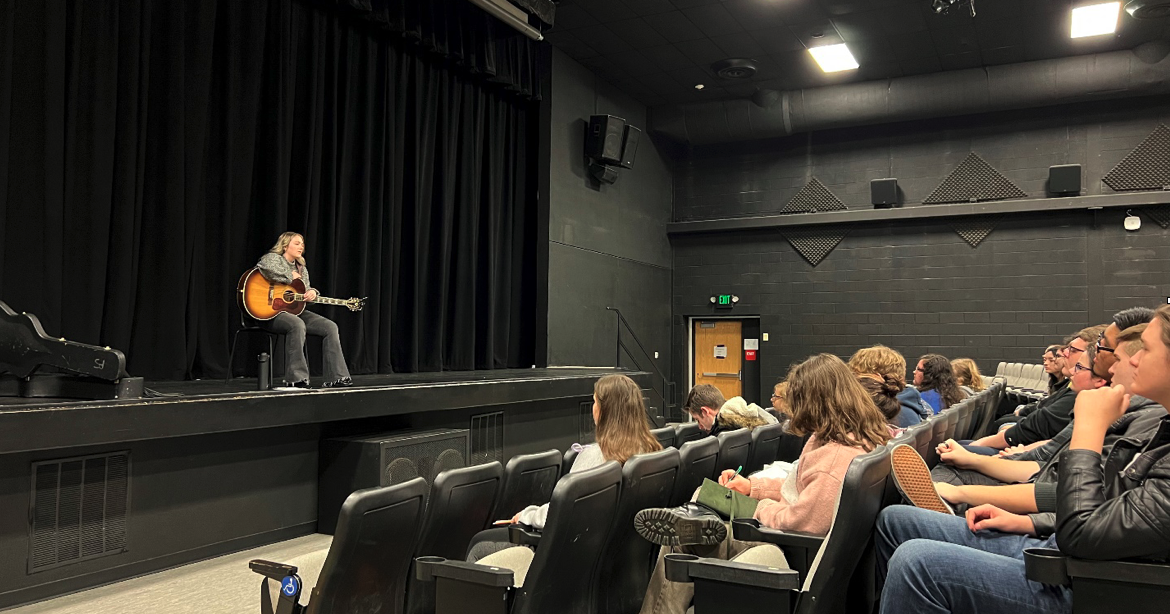 THE TEACHER'S OFFICE: A student returns | Opinion
The other day our main classes were to watch an inspirational video. The articulate speaker said a few things that stuck with me, one of which was that "belief and exposure" are two of the most powerful things that can happen to an individual. I agree.
In life, you have to believe in yourself and in others, even in something bigger than themselves. Moreover, exposure helps an individual grow. Additionally, exposure and experience can enlighten and inspire, and even make people more empathetic and caring.
In reflection, several years ago I discovered that a young woman in my creative writing class could sing and play guitar, and she often performed on a large scale. I asked her if she would sing for the class, and we could write about the experience. She has accepted.
I remember how I felt in that class all those years ago as she sang her songs. I felt like the classroom was too small, and my metaphorical vessel became a dull side to the enormity of her talent. I remember wishing other teachers were in the room, other classes, so they could enjoy this great treat as well.
As opportunity and exposure go hand in hand, the other day I had the chance to ask this same young lady to sing again for my creative writing class.
Recently, Sydney Adams was selected as the 2022 Kentucky Music Hall of Fame Artist-in-Residence. The young woman who sat in my tiny classroom seven years ago has once again graced our presence with her talent. However, this time we used the auditorium and I invited as many people as she allowed.
As my class entered the Great Hall, they took their seats in the center seats. Sydney stood against the stage, her acoustic guitar case open and close, like a supportive friend. Her recent distinctions and her fame had not diminished the sincerity of the student I knew. Even children in the audience commented on its authenticity later in their writing.
After an awkward introduction from me, she addressed the classes and teachers with the familiarity of a former Corbin High School student. She talked about her songwriting and style of singing and even cracked a few jokes. I sat behind the classes and looked up to see my principal seated just to the left of me and hoped to a large extent that would count as an observation.
Then she started to sing. I had forgotten how surprised I was by the power of his voice. There was only her and her guitar on stage. No microphone. But her voice went through this hall like a ribbon of bonding and we all felt it. Her words rose and fell with emotion as she strummed her guitar, matching the tone and rhythm of her voice.
She performed three original songs, and her last one was my favorite. It was a dark interlude as she strummed her guitar in those low chords. Then she launched into a rather tragic tale and we all followed, a little aroused by the change in tone, but still intrigued and delighted.
One student wrote, "Even though it (the song) was pretty, it was strange and a bit strange. It reminded me of the song 'Hotel California' and how slow it starts and it gives you that feeling that you can't quite place.
Another student wrote, "Almost every lyric in this song contained some form of figurative language, which further proves how vast and impressive his creativity was."
It was a remarkable mini-concert and I felt privileged to attend. As we all walked out, back to class to write about our aesthetic exhibit, I took the stage to thank her. As I said those words, I felt like it wasn't enough. My students had the opportunity to have this experience and I was extremely grateful.
As mentioned, exposure can help an individual grow, and experience can enlighten and inspire, and indeed we have been.
Brian Theodore is a language arts teacher at Corbin High School and lives in Corbin with his wife, who is also a teacher at CHS. He can be contacted at [email protected]