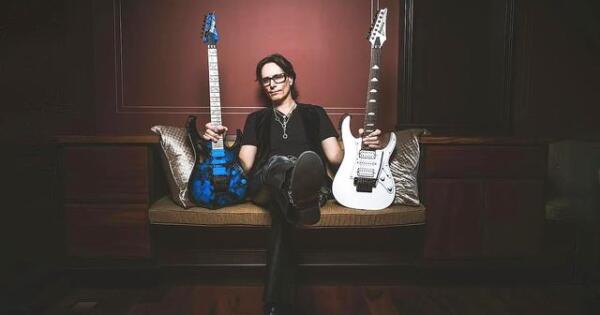 Steve Vai (Finally) Brings His "Inviolate" Tour to College Street Music Hall
NEW HAVEN — In two conversations nearly a year apart, guitarist, songwriter, producer and three-time Grammy winner Steve Vai revealed himself to be as much a musician as a magician, conjuring up mind-bending creations not only from the wood, strings and magnetic pickups of the guitars he plays, but also from a recently unveiled one-of-a-kind instrument creation dubbed "The Hydra".
But more on that later.
After not one, but two life-threatening injuries requiring separate surgeries, Vai is on the road bringing a showcase of classics and all-new material to Connecticut fans as he – after frustrating injury-related delays – reaches finally the stage of New Haven's College Street Music Hall on November 1st.
"The wing is starting to beat again," Vai joked of his previously distressed shoulder, arm and hand during the second of two exclusive phone calls to The Newtown Bee in mid-September.
In over 40 years in the industry, Vai has sold over 15 million records and recorded with music legends like Frank Zappa, David Lee Roth, Whitesnake and many more. He has also toured extensively and recorded live projects with G3 (in collaboration with various bands including Joe Satriani, John Petrucci, Eric Johnson, Yngwie Malmsteen and Steve Lukather) and Generation Axe, a Vai supergroup formed with Zakk Wylde, Malmsteen, Nuno Bettencourt. , and Tosin Abasi.
Vai is also the author of Vaideology: Basic Music Theory for Guitaristshis first music theory book designed to help beginners and experienced guitarists.
He is backed on the current tour by longtime band members Dave Weiner on guitar and keyboards, Philip Bynoe on bass and Jeremy Colson on drums.
After hitting the big 62 this summer, Vai explained that he purposely changed his practice and warm-up regiments, as well as the way he presented his talent on stage to accommodate his recovery and maintain his ability. to continue playing at its peak. And he's excited about it, despite a grueling 50+ appointment schedule that spans just a few months, which could very well challenge players who are decidedly younger.
"I didn't realize it until I got back on stage, but my conventional way of moving wasn't going to work," Vai said. "You have to do your best to make lemonade out of lemons, right? But I still feel it. I have to face the fact that some of those changes come with age.
"It's like with athletes incorporating a change in position, except you're making a musical statement," he continued. "But a vast majority of what you do, and what you have to overcome, is in your mind and your imagination. And even if some techniques have to change, I still have an incredibly wide palette to make melodies. I find no limits.
Love the new tracks
Vai and his legion of fans all enjoy the raft of new material the artist presents each night starting with his new release, Inviolate.
"Oh yeah, I really like playing 'Little Pretty' by Inviolate. Also 'Zeus In Chains', 'Avalancha' and 'Candlepower'," he shared. "You know, John, it's really nice when you're on the road promoting a new record and you have new material to play. I like to play older stuff, but there's a spark when you do something new, and these songs light me up. They are so well suited for playing live and my ability to play them. Truly magical.
Before his first pre-tour conversation with the bee, while nursing his first post-surgery recovery, Vai presented an unreleased performance video on his Ibanez Onyx Black PIA guitar of a new composition called "Knappsack". The clip capturing him playing with one hand while recovering from shoulder and hand surgery can be viewed by CLICK HERE.
A true artist, Vai chooses musical collaborators much like he does guitar, amp, effects and settings, spending hours, days and even weeks perfecting himself to achieve the sound and style that the song requires.
"The song kind of tells you what kind of musician is required," he said. "Most of the time, if I record with other musicians, I start with my band, otherwise — like with keyboards — unless I really need a virtuoso performance, I try to do everything myself. -same. On this record, when the pandemic was in full swing, I ended up doing something very different: sending tracks to various musicians and picking up what they contributed without being there.
"So if you ask the right people, they do the right things and they blow your mind. As with "Candlepower". First I laid it down with just a drum loop, but then I wanted a drummer to bring it to life, and the answer kept coming: Terry Bozzio. And I loved what he did, as did the two tracks with Vinny Colaiuta," Vai said. "I wasn't there to tell him what to do, but I got the best of Vinny – just fantastic.
"The same thing happened when I contacted Henrik Linder," he continued. "I've been following him for a while and he's just a freak, you know? So brilliant, but I needed the right song for him. So I sent him 'Apollo In Color', and I thought Henrik would be fantastic, and boy, he sure was.
Wielding 'The Hydra'
Inviolate doesn't just feature new songs and musical collaborations. It also features a brand new instrument called "The Hydra", which was invented and built by Vai in partnership with guitar company Ibanez.
Just to get a little corny about guitar technology for a moment, The Hydra is a multi-faceted creature with two headstocks, three necks that accommodate 7- and 12-string guitars; a 4-string bass in ¾ scale; 13 sympathetic harp strings; semi-fretless necks; single coil, humbucker, piezo, MIDI and sustainer pickups; floating and semi-rigid tremolo bridges and phase splitters.
And Vai can be heard and seen on stage, wielding it while performing the new album's opening track, Hydra teeth.
"Maybe five years ago, I had the idea of ​​creating a wild guitar based on a steampunk-type pattern, with three necks and harp strings," Vai retracts in the liner notes of the album. 'album. "Hoshino's Incredible Designers [Ibanez] went to work and after maybe 2-3 years, and a prototype to start, The Hydra was born.
While releasing what might be some of Vai's best work on the current tour, Vai also allowed time to complete a project he had been working on literally since elementary school when he fell in love with music. symphony and began to study. arrange and compose with a local teacher.
This passion and various creative periods over the past 40+ years have given rise to Vai's recorded orchestral music which he has composed and performed on.
"In May [2021] I was in Holland for three weeks recording with the Metropol Orchestra and last month I was in Finland recording with the 90-piece Tampere Philharmonic Orchestra," he said. "This project will eventually come out, but it will be very different from what most people expect of me."
In conclusion, Vai said he was looking forward to seeing all of his Connecticut and area fans on November 1 at College Street Music Hall.
"The pacing of the show is engaging, and most people who know what I'm doing know what to expect," Vai said. "But this time it's just different – ​​it's deeper. I think as you get older and stick to what's interesting, you tend to evolve. So I'm definitely on this path of evolution, and it's the perfect time to go to a rock concert! »
Get the last remaining tickets to see Steve Vai in New Haven by visiting collegestreetmusichall.com; and access a few videos, including Vai debuting with "The Hydra," on newtownbee.com.
Editor John Voket can be contacted at [email protected].
Check out Steve Vai unveiling and performing on "The Hydra" for the first time at the Magnolia Theater in El Cajon, Caif. September 28.
Steve Vai recorded this official video for his song 'Little Pretty' from his latest project 'Inviolate'.
Multi-Grammy guitarist, songwriter and producer Steve Vai returns to Connecticut at New Haven's College Street Music Hall on Tuesday, November 1 for an evening of rock music. Read what he had to say during two exclusive Newtown Bee interviews and buy tickets now at collegestreetmusichall.com.
Multi-Grammy guitarist, songwriter and producer Steve Vai returns to Connecticut at New Haven's College Street Music Hall on Tuesday, November 1 for an evening of rock music. Read what he had to say during two exclusive Newtown Bee interviews and buy tickets now at collegestreetmusichall.com.
Grammy-winning guitarist Steve Vai is pictured with 'The Hydra', a one-of-a-kind instrument he designed with the Ibanez guitar team, which he plays on stage and on the opening track of his latest project, Inviolate. —Larry DiMarzio photo
A close-up of "The Hydra", the unique instrument based on a steampunk-like design, with three necks and harp strings, designed by guitarist Steve Vai and the Ibanez guitar team. —Larry DiMarzio photo