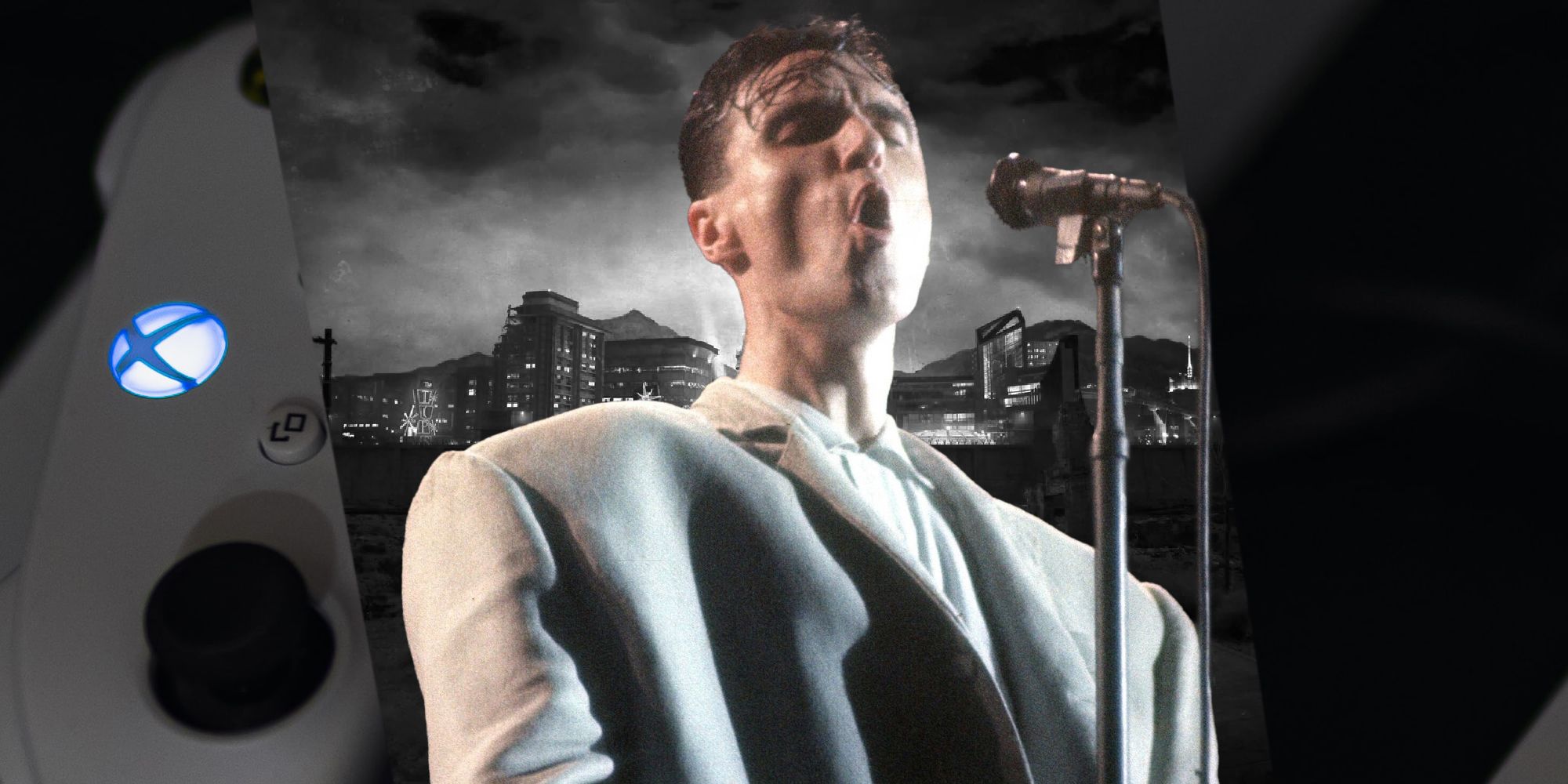 Someone should make a music game based on Stop Making Sense
Stop Making Sense has a reputation as one of the best concert films of all time. It's well deserved. Starring Talking Heads and directed by Jonathan Demme – the filmmaker behind The Silence of the Lambs and Philadelphia – the 1984 documentary is a virtuoso feat on the part of performers and director. It would also make a fantastic, once-in-a-lifetime video game.
The wave of bands getting bound sets passed over a decade ago, around the time plastic instruments went out of fashion. Before the trend ended, we had Rock Band games dedicated to the Beatles, Green Day, and AC/DC catalogs, Guitar Heroes honoring Van Halen, Metallica, and Aerosmith, and a Black Eyed Peas dancing game for the Wii. These games combined the music of their subjects with art inspired by their aesthetics. The Beatles: Rock Band became memorable as its timeline spanned the band's drug-inspired career in the late '60s. band stopped touring, thus presenting Harmonix with a challenge on how to visually represent their performances. They rose to the challenge with levels that started in the recording booth, but traveled to surreal dreamy plains as the song progressed.
RELATED: I Want A Shooter With An Alt Z Soundtrack
We don't live in that time anymore. But the past few years have still given us a lot of great music games. Titles like The Artful Escape, Thumper, Sayonara Wild Hearts and Fuser have shown what interactive music can look like in a post-Guitar Hero world. These games took music out of the realm of the literal – you won't hit a plastic drum to simulate playing a real drum – and instead focused on depicting the creativity of music through stunning visuals and a unique gameplay.
It's a better fit for Talking Heads than playing fake bass. While David Byrne strums a guitar at certain points in Stop Making Sense, he spends almost as much time doing a Keatonesque slapstick routine with a lamp. The film is a showcase of Byrne and his band's talent as performers, not just as musicians. A game version of Stop Making Sense should address this aspect, gamifying the details of the performance as a whole, not just the music. You can twist the joystick to balance the lamp or hold the shoulder buttons and twist the sticks to make Byrne do that weird bow-legged dance. You can press all the face buttons to knock Byrne off stage and sing on his back. The old era of music games tried to make you feel like a traditional rock star, but David Byrne is anything but.
The game could begin, as the movie does, with Byrne's solo performance of "Psycho Killer." It would work as a great tutorial, introducing players to the mechanics against the lonely, austere scene. As the game progressed, additional musicians could join the roster, as they do in the movie, until the stage was full. A solo player could choose which part they wanted to play, or swap between them, taking a turn on drums, bass guitar, or dancing, before moving on.
And, of course, a Stop Making Sense game should include the moment the movie is best known for: when Byrne disappears from the scene for a number, then returns in a costume way too big for him. Instead of isolating these giant clothes to a single song, they could instead function as an in-game power-up. Like Mario, Byrne could get a reward that would make him double in size. (Only, while Mario is stomping on the turtles, Byrne would look ready to join the Turtle Club.) Once puffed up, he could double the points for the set.
Byrne always creates interesting work and has teamed up with fellow auteur director Spike Lee for a film version of his Broadway show, David Byrne's American Utopia. But the stage and the big screen aren't the only places that would benefit from Byrne's unique touch. It's time for Byrne to head over to Steam and start earning some pennies.
NEXT: We Are OFK Pushes The Boundaries Of What It Means To Be A Video Game