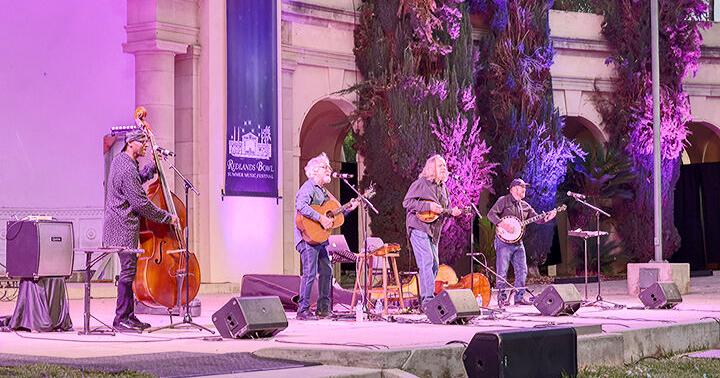 sergeant. Pepper's band brings the block party to the bowl | Culture & Leisure
Take what looks like an impromptu riff session, add some dancing kids to it, throw it on stage at the Redlands Bowl and you have the world's "greatest block party". Dave Wasler, guitarist for Sgt. Pepper's Lonely Bluegrass Band, seemed thrilled when the band came out and saw the crowds waiting, joking it was like a huge block party. Wasler has been to Redlands before, but the other band members haven't, and was quick to joke about making Redlands their home, as they were happy to get out of the 100-degree heat in Dallas, where the band is from. native.
The four band members, Wasler, Milo Deering, George Anderson and Gerald Jones took their instruments and started the party with the well-known Beatles song, "Hard Day's Night".
From there, the band played a variety of Beatles songs, with the audience quietly singing along to the most common songs. Between songs they included lots of bluegrass for which Sgt. Pepper's Lonely Bluegrass Band is known.
A versatile musician, Deering humbly showed his skills on the violin, then on the fiddle, mandolin, cello, guitar and flute. Fingers flying, guitarist Wasler maintained riffs that seemed to go on for days. Bassist Anderson has an obvious love for his current instrument – he also plays a few – as he has shown different playing techniques on the borrowed bass. Jones, on banjo, had a vocal solo near the end, addressing the audience to "With a Little Help From My Friends". Wasler shouted out to some locals who lent their instruments to the band, saving them the hassle of having to airlift them to Redlands.
Knowing they had at least one more song ready, Wasler ended the show, prompting the audience to request an encore.
Obeying with an extra track, the four guests invited the audience to sing along to "Hey Jude" with phone flashlights swaying in time to the familiar chorus.
John Hallen of Redlands liked Beatles music put in the bluegrass style.
"It's the perfect combination," acknowledged Kim Goddard, noting that her favorite song of the night was "Blackbird" featuring Deering on flute.
Sponsor: Esri