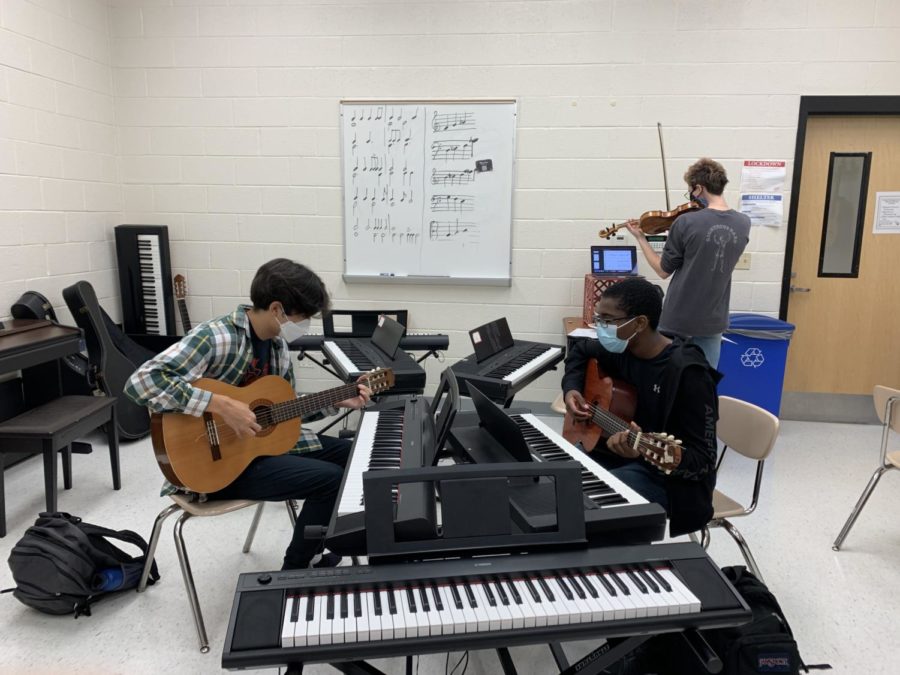 RM Rock & Metal Club Brings New Approach to Instrumental Music – The Tide
[ad_1]
Guitar strummings hum through the music hall during Thursday lunches, inviting curious ears to discover its source. The sounds come from Room 109, where students come together to share their unique musical passions at one of RM's newest clubs this year: the RM Club RM. This particularly catchy name is the abbreviation for the Richard Montgomery Rock & Metal club, which aims to provide a comfortable space for its fans to play and enjoy music with each other.
Earlier this year, seniors Patrick Kim and Jeffrey Vedrin took to the music rooms over lunch to play guitar and learn new pieces together. These meetings quickly turned into a club as they received a growing appreciation and interest in their music.
"I realized that I had to start a club when I realized that a lot of people wanted to learn guitar with me. I also wanted to share Polyphia's greatness, "Kim said.
For those who may not be familiar with them, Polyphia is a rock band known for their progressive instrumental music. Its genre is often referred to as math rock, due to its complexity.
"I think Polyphia's technical ability is really amazing… she pushes the boundaries of instrumental music. Tim Henson (the lead guitarist) has a unique way of combining different techniques to create great music, and I think he influences a lot of guitarists like me.
While Kim and Vedrin are both dedicated to the group and aim to expand its influence, the club is far from exclusive to Polyphia fans or expert guitarists.
"We have a pretty diverse group: from freshmen to seniors, beginners to experts, and we're constantly learning from each other," Vedrin said. He is himself an amateur guitarist and new fan of Polyphia, responsible for the "rock" part of the club but also exploring his musical passions like most of the members.
"At our meetings, we discuss songs and artists that we love, and I try to teach members how to play their favorite songs," Kim said.
Since the club's inception, many students have taken advantage of this collaborative space to relax over lunch while learning something new. Senior Zach Lidl joined the club to play guitar with others, also giving mini-performances to his friends.
"I would recommend it to friends because it's a great fun club and I can interact with other guitarists and just hang out," Lidl said.
As the lack of time and the high cost of music lessons are often obstacles to the pursuit of an instrument, an additional goal of the founders is to alleviate these challenges for the students.
"Since people often don't have a place in their schedules to take guitar lessons, there is [the club] gives them a good opportunity to try to learn, "said Vedrin.
"Overall, I just want everyone to have fun and progress, building on each other."
[ad_2]