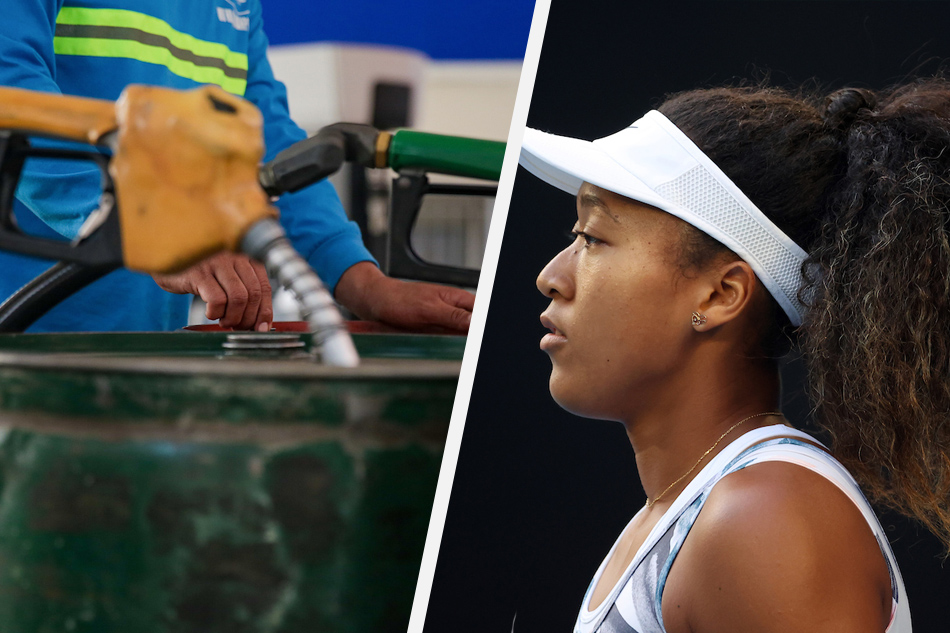 Offbeat news of the week | ABS-CBN News

WARNING: graphic content
PARIS — From snail sandwiches to something you really shouldn't say in Swahili. Your weekly roundup of quirky stories from around the world
IT'S A FLIGHT
Greek public television is being mocked after showing viewers how to siphon petrol as prices soared on some holiday islands to as high as €2.50 a litre.
"It's not something very complicated", explained the journalist Costas Stamou, "even a hose to (clean) the balconies will do the job".
A helpful mechanic then showed the best places to puncture a car's fuel tank to empty it of its contents.
The segment sparked horror and hilarity, with one Twitter user joking, "After the tutorial on ways to steal gasoline, ERT is now preparing new tutorials on opening locks and stealing wallets."
'ME A WOMAN'
East Africans are 'losing their minds' to Japanese tennis ace Naomi Osaka naming her new media platform with 2 words you just don't say in Swahili.
Hana Kuma may mean "flower bear" in Japanese, but it has a slightly more explicit meaning in the East African lingua franca – that a woman does not have a vagina.
"East Africans can't say this even in a low voice," said a Twitter user in Kenya, where the name caused amazement on TV news channels.
Others begged Osaka, whose father is Haitian, to change the name of the media company that was – wait for it – supposed to tell stories across cultural barriers.
But Osaka tried to play down the hubbub, saying, "Prayers for all my overthinkers. We'll get through it."
TRUMP ROCKS
People may be trying to box him in, but Donald Trump can still win over a crowd – or at least the Bangkok version of him playing the air guitar can.
Rob Palmer won the right to represent Thailand at the World Air Guitar Championships in Finland later this year with his sulky impression of the former US president playing Green Day's "American Idiot."
"If you have to do this, you have to do something crazy, so let's do the craziest man on the planet…Trump," Palmer told AFP after his victory.
SLIPPERY SCHNITZELS
Gugumuck, an Austrian hipster farmer with a wonderful name, wants to make Vienna the snail-eating capital of the world.
In the old days, Viennese gobbled up more snails than schnitzels, and Gugumuck wants them to try them again fried, sprinkled with sugar or with cabbage or bacon.
In the restaurant next to his farm, you can also get "snails and fries" or snail and cinnamon buns.
HERRING HARD
The Dutch are also rediscovering the joys of raw herring. Thousands of people flocked to the port of Scheveningen to sample the first catch of the season, dispatching them in the age-old fashion of holding the onion-wrapped fish by the tail and dropping it down its throat.
"A lot of people have never tasted it and they love it," said Arthem, a fish market employee.
WRITE THE WAY TO LOVE
Love is hard on the indexes, as anyone who's spent time swiping on Tinder will tell you. So, anxious to revive its declining birth rate, the Japanese city of Miyazaki embarked on the twinning.
No more Photoshopped profile pictures. Instead, its low-tech approach relies on the lost art of writing love letters after single people are matched by officials based on their age and interests.
So far, the matchmaker strike rate has been impressive, with romance blossoming between 17 of the 32 matching couples.
© Agence France-Presse

quirky news, bizarre, fuel, oil, oil prices, Vienna, Naomi Osaka, Japan, birth rate in Japan, dating in Japan, Donald Trump