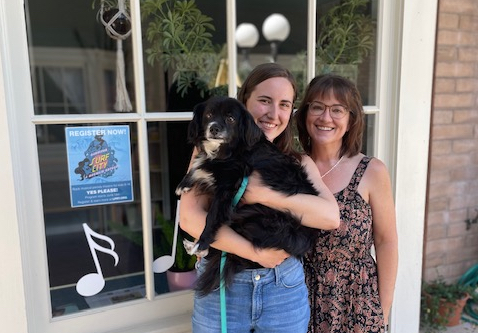 Mountain music in the key of life – Press Banner
When Sydney Gorham was five, she started her first business, "Sydney's Outdoor Chore Service". The petite entrepreneur waddled around her San Jose neighborhood with a bucket of cleaning supplies and a stack of handmade business cards; Gorham went door to door and did odd jobs for his neighbors, who benefited more than anything.
Gorham moved to a completely different realm when she was a bit older. She ran the "Singing Club" at the Boulder Creek family home.
"I wanted something that would engage kids all year round," she explained. "It all started with a handful of children. We learned sets of songs, and they gave recitals. By the time I left for college, we had over 30 kids attending and playing.
Gorham graduated from San Lorenzo Valley High School in 2009 and headed to Cabrillo College with a desire to be a musical theater major.
After taking a music fundamentals course, she found a new direction for her major and transferred to the University of the Pacific in Stockton.
From there, his musical prowess grew. Gorham graduated in 2016 with a Bachelor of Music degree. While working in a studio in Lodi, her love and appreciation for all things music led to the passion she instilled at Mountain Music School in Scotts Valley.
Gorham's angelic voice has been featured at Mountain Community Theater and events throughout the county and beyond. She was part of the Little People's Repertory Theater and then went on to teach the group's Junior Players after graduating from the program.
Since opening the music studio – formerly B Sharp – five years ago, Gorham has seen his business crescendo despite the pandemic.
"There were three teachers," she says. "We had three small rooms in our original studio, and as our business grew, we needed to expand to accommodate our clients."
Mountain Music now has 12 staff members in three separate spaces in the King's Village mall; in addition to vocal work, the instructors also teach piano (Kiddie Keys for the little ones), guitar, ukulele, drums, sax, trumpet and clarinet. Gorham's favorite part, however, is when his 160 students take part in recitals that are given in the center courtyard.
"It's a hoot," Gorham said. "We have students of all ages, from preschoolers to seniors, and all levels performing, and this is their moment of gratification. It is rewarding for everyone involved; they can fight their fears and demonstrate what they have learned.
Gorham advises his students to visualize their entire recital day to calm frayed nerves. She tells them that being nervous is a normal part of the experience. Most of our students are beginners, and many of them are fulfilling a lifelong dream of learning to sing or play an instrument. That moment of discovery – when students hit the right note or strum the right chord – is the best.
"The younger guys haven't gotten this message yet that they're not good enough or talented enough," Gorham said. "Talent is a buzzword in music and education, music is a skill and you can learn it. Some people may have a natural inclination towards music, but anyone can learn to sing or We make room for students' goals and create a program that helps them achieve their dreams.
Gorham watched her young students grow into teenagers and continue to play theater roles, and now she hopes some of those students will come back to teach.
"We are growing so fast that we need teachers," she said. "I want this school to be a hub where professionals can come to work, teach and learn from each other."
Gorham's dream is to one day have a venue for performances so she can showcase her staff and students.
"We don't teach just one method of music," she says. "The style and approach of each instructor makes us unique in the world of music education."
As the school continues to expand, Gorham said 2023 will be the year of "Band Camp."
"We don't know what it will sound like – it could be piano, vocals or ukulele – we're just trying to focus," she said. "Since we only do one-to-one lessons, it's exciting to consider having a group experience for our students."
mountainmusicschoolsv.com