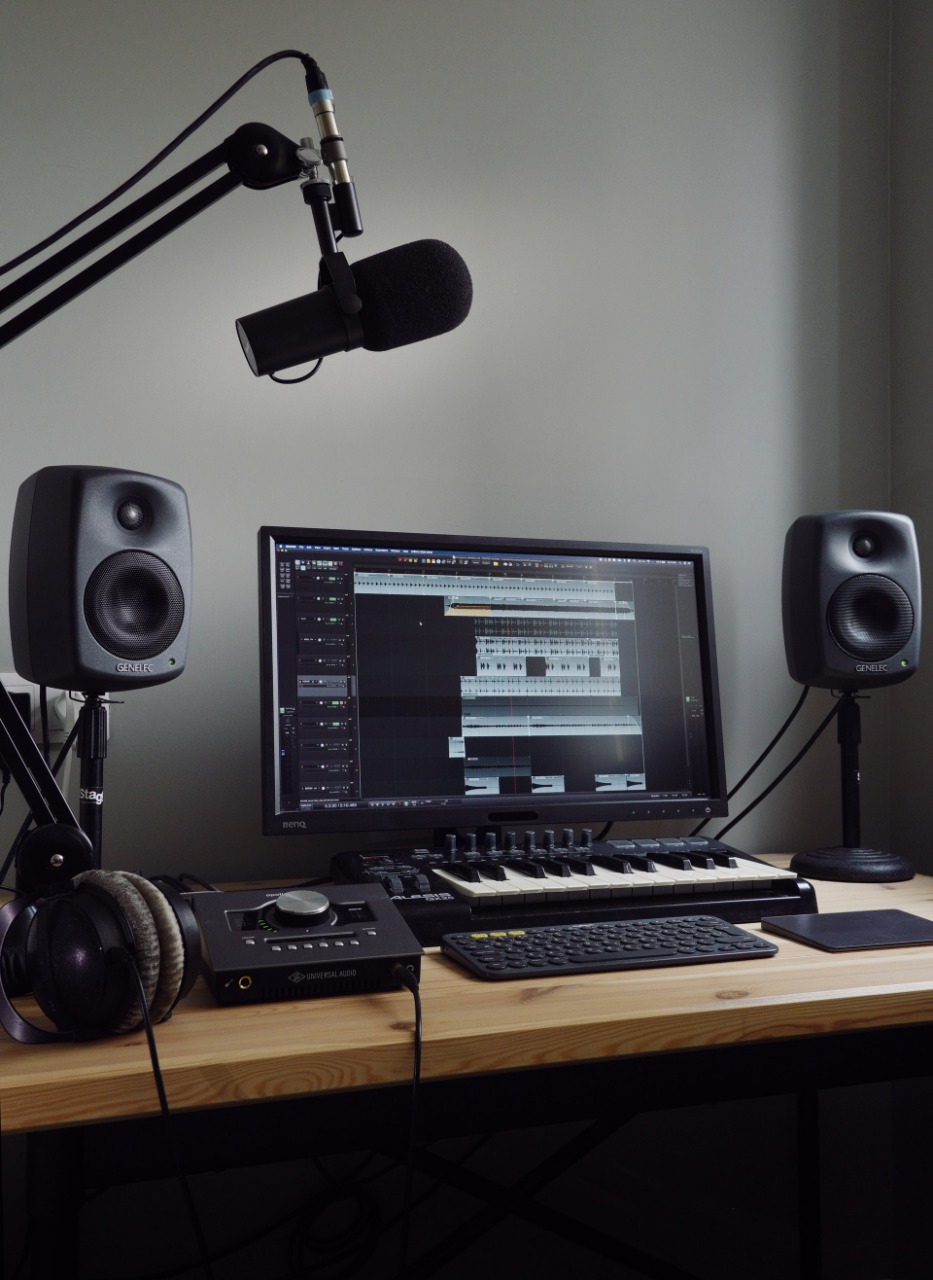 Thinking of creating your own music? Want to take back that old guitar you've been ignoring all these years? Want to experiment with producing your own music? The pandemic has given us plenty of time to try new things and resume pending hobbies. Digital music production has opened many doors for musicians, from instrument versatility to distorting sounds with effects. Much of today's music is recorded digitally on a computer, and if you want to try your hand at music, here are some of the tools you'll need to fill your empty desk and start experimenting with some tunes.
A decent computer
As with any digital production, a good computer is at the heart of this setup. Although audio production is not as demanding as video production or 3D modeling, it still requires a good processor and plenty of RAM. Mixing usually involves working with multiple audio clips loaded onto RAM, and the larger the project, the more RAM you will need. So, invest in a relatively fast computer with plenty of RAM and storage space. MacBook M1s are excellent choices for music production, and also the only option if you want to use Logic Pro. If you're not married to Apple-exclusive software, the Dell XPS 13 is also a great choice, given the portability and power. While these are good options, you're not limited to them, and any desktop or laptop computer would work well if it's relatively modern with plenty of RAM and storage.
Musical instruments
To be a good musician, I believe that everyone must start by learning to play an instrument. Learning any musical instrument will introduce beginners to basic musical notations, composition techniques and musical progressions which will all be vital knowledge when working with digital instruments and sounds. If you want to sing or rap, there are some great mics you might want to consider for your setup. the Audio Technica AT2020 is a very good condenser mic which costs around Rs 15,000. But since the AT2020 is a condenser mic, it will be much more susceptible to background noise, which means you will only be able to use this mic properly if you are in a quiet room. For about the same price, the Shure SM-57 is another option if you don't have a quiet environment to record. The SM-57 is a dynamic mic and will therefore handle unwanted background noise better. For other instruments, going to music stores in person and getting a feel for the instrument, and considering your budget can be a good idea.
Digital Audio Workstation (DAW)
A digital audio workstation is your central audio software where you do all of your mixing and mastering. If you play instruments, this is also where you record your riffs, bass lines or drum beats and mix them together and/or with digital instruments. DAWs are really powerful pieces of software that can also modify audio in countless different ways, and most of them also support third-party digital signal processors (DSPs) allowing musicians to add audio effects. The most popular DAWs would be Ableton Live, Logic Pro, Pro Tools, FL Studio, and Cubase. Logic Pro and FL Studio are some of the easiest programs to understand if you're a beginner, but can easily handle professional workloads. However, music professionals advocate that Ableton Live and Pro Tools are the best. It depends on your personal preference, but be sure to check out some tutorials for all of these tools if you're a beginner, because while they do the same thing, there are differences in how they work. You might find a better one to cooperate with your workflow.
audio interface
If you want to plug any of your audio equipment into your computer, you will need an audio interface. An audio interface is essentially a translator between the analog signal from your instrument and the digital signal expected by your computer. The audio interfaces also have professional audio inputs that work with instruments and professional audio gear. Guitars typically use 6.35mm (1⁄4 inch) connectors, which are analog jacks similar to but larger than the 3.5mm audio outputs found in computers or smartphones. These jacks usually cannot be plugged directly into a computer unless you have a 6.35mm to 3.5mm cable or a USB cable. These converter cables however are not the best to use and will create a lot of noise and latency between your instrument and your computer. The best way is to invest in a USB audio interface that supports a 6.35 input and XLR inputs (these are the circular three-pin connectors typically used by professional audio devices like microphones). These audio interfaces can be expensive depending on the model and feature set, but for beginners, the M-Audio M-Track Duo is a bargain at around Rs 9,000. It's not as large as other audio interfaces and has only two input slots and minimal features, but for the price it's a budget solution for better synchronization with your computer.
Headphones/Speakers
Making professional music means you also need audio output devices that let you experience all the nuances of your music with high-quality output. Studio monitors are loudspeakers that reproduce music in its most authentic form, without post-processing or bass boost, and for a very long time Yamaha has remained the king of studio monitors. But because Yamaha monitors are so good, they also cost an arm and a leg. the Yamaha HS8 studio monitors cost around 100,000 rupees, which could be quite a steep price for many beginners or home studio setups. For people looking for cheaper but good quality monitors, the M-Audio BX5 D3 is not a bad choice. It won't have the sonic clarity of the Yamaha but will still work well. If you want a more private experience, there are also good headphones. the Sennheiser HD 280 Pro is an excellent choice at Rs 20,000 with good clarity and musical response. They're also enclosed, which means you'll block out most background noise when using them. If you want to go a little cheaper, you can also consider the Audio Technica ATH-M30x. This is a good pair of inexpensive studio headphones at Rs 12,000.
MIDI controller
Since you'll be creating music on your computer itself, in addition to your instrument, a device that works well and interfaces with your DAW would be a great addition. Your DAW will come with a plethora of sound effects, digital soundbanks, and instruments, and while you can also control them with your keyboard, access to a MIDI keyboard or dashboard will make it easier for you to control of these instruments. Just like playing naturally on a keyboard, drawing musical compositions and having access to drum pads will provide the versatility that the keyboard cannot. Many MIDI keyboards also come with pitch mixing functions, programmable buttons, and even rhythm pads. Just like keyboards, the more large and numerous keys a MIDI keyboard has, the more expensive it becomes. For a beginner, the 25 keys Arturia MiniLab MkII would be a great choice. The keyboard is very basic but comes with two banks of eight controller pads and 16 rotary encoders. If you want to go full size, the Arturia Keylab Essential with 88 keys is a great option. the Akai MPK Mini Mk3 is also a good alternative to the 25-key Arturia MiniLab.