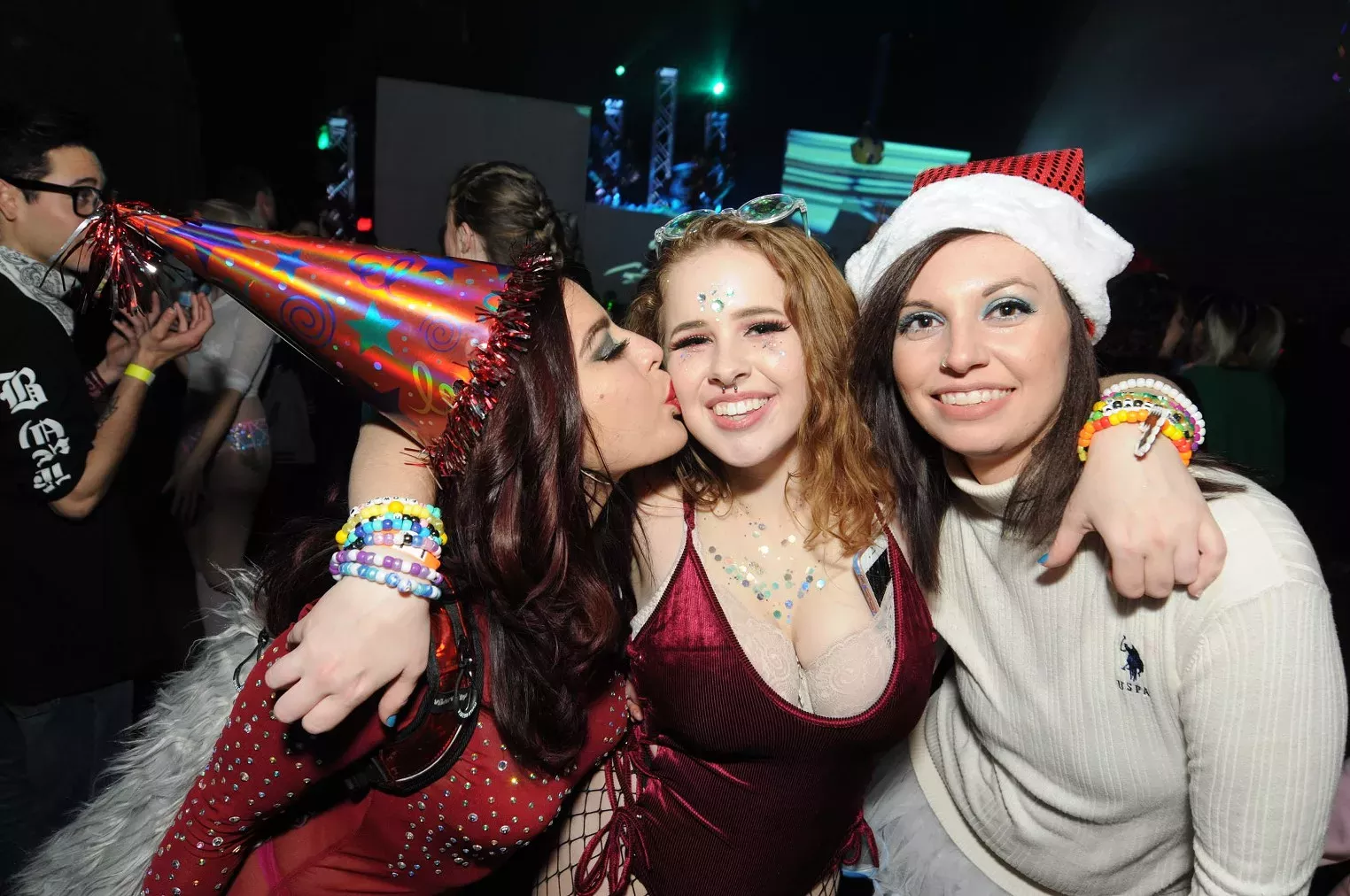 Here's where to drink and party on Christmas Eve and Christmas Day in Phoenix
Yes, Virginia, there will be live music over Christmas weekend, as well as dancing, karaoke, comedy shows, and even a holiday rave. Various bars, clubs, venues and drinks around the Phoenix Metro will be open, operating, and serving drinks and entertainment of all kinds on Friday, December 24 and Saturday, December 25.
In other words, Santa Claus won't be the only creature tossing around in the wee hours of Christmas Eve.
For some, these drinking and dancing destinations are a place to escape all that vacation fuss and drown their sorrows. For others, they are places where one can go to indulge in festivities of another kind. Some (like the Coach House in Scottsdale) are dressed with enough lights and decorations to make Clark Griswold jealous.
Whatever your reasons for going out on Christmas weekend, the following places will be open for business.
Chopper John's
Local rock 'n' roll cover band Chris Kane Trio will spend Christmas Eve performing at Chopper John's, 2547 East Indian School Road, from 9 p.m. to 1 a.m. Entrance to the concert is free. Call 6602-955-0881.
Rips beers and cocktails
Spend your Christmas Eve singing your favorite tunes (and maybe even a few holiday favorites) during the weekly 9 p.m. to 2 a.m. karaoke session at Rips, 3045 North 16th Street. Talent is optional, enthusiasm is appreciated. No cover. Call 602-266-0015.
DWNTWN
Four local DJs will be on the decks for the Xmas Latin Party at DWNTWN, 702 North Central Avenue on Friday, December 24. They will also have a michelada and a taco bar on the back patio. The 21+ party runs from 9:00 p.m. to 4:30 a.m. and guests are encouraged to "dress to impress". General admission is $ 10 and VIP admission is $ 20.
Salt and lime
To say that the folks at Salt and Lime Modern Mexican Grill, 9397 East Shea Boulevard in Scottsdale, are getting into the swing of the season would be an understatement. Massive amounts of Christmas decorations adorn walls and other surfaces while a pop-up bar called Feliz Navidad Cantina will be open on December 24 from 11 a.m. to 4 p.m. Call 480-661-5463.
Blaze Lounge

DJ Nasty will host the X-Mas Eve party at Blaze Lounge, 6514 West Bethany Home Road. Local artists like Msanii Foreman, Moabi Kotu and others are expected to perform at the event, which will run from 7 pm to 2:30 am Admission is $ 20.
Monarque Theater
Electronic dance music DJs and artists from Techno Snobs and Meltdnb will take control of the sound systems at the Monarch Theater, 122 East Washington Street on Friday, December 24, during the Xmas Eve Bloodletting Dance Party. Expect a mix of techno, drum'n'bass, and "flanking genres" from DJs like Intrinzic, Cynapze, DeadPeak, Iron Giant, Borrowed Drums, MarcBaca and more. The 21+ event starts at 9 p.m.

The rhythm room
Expect a jam session inside the Rhythm Room, 1019 East Indian School Road, when acclaimed harmonica player Billy Watson teams up with Bill Tarsha and the members of Rocket 88 at the annual Christmas Eve Blues Bash on Christmas Eve. Friday 24 December. Don't be surprised if Santa Claus himself makes a visit between the houses to sit with the musicians. Doors open at 7 p.m. and admission is $ 10 in advance, $ 12 at the door. Call 602-265-4842 for details.
Boycott the bar
After finishing preparing the presents at the North Pole, Santa's helpers will gather at the Boycott Bar, 4301 North Seventh Avenue, for the "Naughty Elf Party" on Friday, December 24th. Drinking, dancing and other shenanigans (naughty or otherwise) will take place at the shindig. The start time is 8 p.m. and admission is free. Call 602-825-6240.
Gracie Tax Bar
An employee at Gracie's Tax Bar, 711 North Seventh Avenue, said they would be open from 6 p.m. on Christmas Eve and 8 p.m. on Christmas night. No DJ or group is planned but the kitchen will be at the service and its mixture of gaiety and libations will be there. Call 602-366-0111.
Yucca tap room
Drinkers, rockers and locals flock to the Yucca Tap Room, 29 West Southern Avenue in Tempe, to bend their sleeves and participate in other social rites 365 days a year, including Christmas Eve and Day of Christmas. They will do it again this year, as the joint will be open on both days. The main hall will also host a rock show with the local group HAM headlining on Friday, December 24. Sex and Sandwiches, Shane Pogue, JR Hogsett will provide their support during the 8 p.m. show. Free entry. Call 480-967-4777 if you need more details.

Coach House
The employees of Coach House, 7011 East Indian School Road in Scottsdale, pride themselves on being open for business any day of the year, including throughout the holiday weekend. You can get an early start to get going as the place opens daily at 6 a.m. and out. Call 480-990-3433.
Pomeroy
Want to escape for a few hours from the usual family drama and the holiday hubbub? The staff at Pomeroy's, 5551 North Seventh Street, will be ready to serve you something strong and to listen to you on Christmas Eve and Christmas Eve. They will have regular hours on Saturdays and will be open from 6 p.m. to 2 a.m. on Wednesday. Call 602-264-5411.
The lost leaf
The Lost Leaf's website, 914 North Fifth Street, boasts that it is "open every day of the year" without fail. As such, you'll find its staff serving selections from its extensive list of beers, wines, sakes, lambics, ciders, meads, and other beers on Christmas Eve and Christmas Eve from 5pm to 2pm. Call 602-258-0014.
Bikini lounge
Employees at Bikini Lounge, 1502 Grand Avenue, will be working from 6 a.m. to 2 a.m. on Christmas Eve and Christmas Eve itself. The historic tiki bar and dive will offer its usual mix of inexpensive drinks, entertaining bartenders and colorful regulars. Call 602-252-0472.
Swizzle Inn
It's a tradition for many valley drinkers to vacation perched on a bar stool at the Swizzle Inn, 5835 North 16th Street, and the staff at CenPho dive site are more than happy to accommodate them. "It will be business as usual," said an employee Phoenix New Times. They will serve drinks from 10:30 am to 2:00 am on both days. Call 602-277-7775.
Arizona Casino
It is absolutely and positively guaranteed that local gambling establishments will be open on all statutory holidays. As such, the Arizona Casino, 524 North 92nd Street in Scottsdale, will have several of its bars serving drinks on Christmas Eve and Christmas Day. Call 480-850-7777.
Wild Horse Pass Hotel and Casino
The same goes for the Wild Horse Pass Hotel & Casino, 5040 Wild Horse Pass Boulevard in Chandler, which will offer its array of gaming thrills and well-stocked bars for drinkers or anyone feeling lucky.
by Giligin
The quirky, Island-themed Giligin's Dive Bar, 4251 North Winfield Scott Plaza in Scottsdale, will open at 6 a.m. on both Public Holidays. Expect the usual amount of nerve and debauchery from the staff. Call 480-874-2264.
TT Roadhouse
Stop by TT Roadhouse, 2915 North 68th Street in Scottsdale on Christmas Eve or Christmas Day and feel free to grab a few pints, listen to music on his famous jukebox, or toast his late one. owner Richard "Rick" Skoog, or strike up a conversation with one of the regulars (who just might become your new best friends). The venue will be open from 11 a.m. to 2 a.m. on Friday and from 2 p.m. to 2 a.m. on Saturday. Call 480-947-8723.
Marie Noel
This infamous annual Christmas party returns on Saturday, December 25 to an off-the-radar covered location in downtown Phoenix. Local DJs Kronos, Metazone, Gimmie, Carmen Rae and Deejay DMX will perform during the eight-hour event, which starts at 8 p.m. and continues until 4 a.m. foreseen. A smoothie bar and food vendors will also be on hand. Tickets are $ 15 online, $ 25 at the door. Text 602-802-9448 the night of the party or visit the Facebook event page for more details.
Standing live
Comedian and actor Adam Ray (who has appeared on shows such as Silicon Valley, workaholics, and Calm your enthusiasm) will take the stage at Stand Up Live, 50 West Jefferson Street, on Saturday, December 25. The performances will take place at 7 and 9:30 p.m. Tickets are $ 22 (plus the usual minimum of two drinks). Call 480-719-6100.
Bar of the Valley
The owners of Valley Bar, 130 North Central Avenue, will be opening the downtown drink, hangout and concert hall at 8 a.m. on Christmas Day. That evening, DJ Aw.Dre will be in the mix for the "Most Necessary Hip-Hop" party starting at 10 p.m. Free entry. Call 602-368-3121.