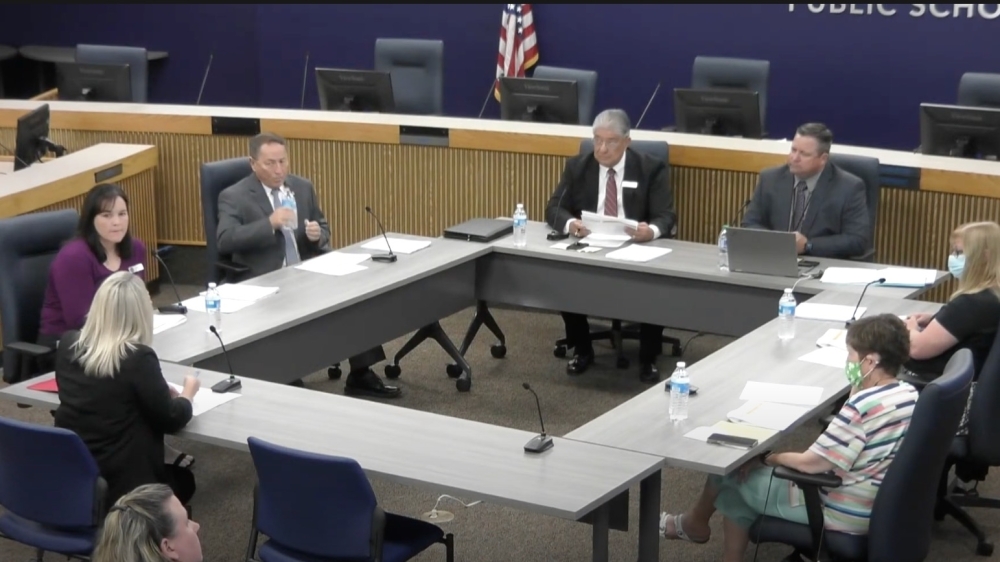 Gilbert Public School Board Reviews Next Round of Relief Funding
Gilbert public school board members and staff are studying how the district will spend its next federal coronavirus pandemic relief money allocation. (Screenshot from YouTube)
Gilbert Public Schools intends to spend its next round of federal coronavirus relief money to tackle learning loss, strengthen teaching and compete for the talents of its workforce,
Superintendent Shane McCord outlined the plan for how the district would spend the $ 22.04 million it plans to receive from the Federal Elementary and Secondary School Emergency Relief Third Cycle, or ESSER III,. Congress adopted the back-up plan in March. The presentation took place during the study session portion of the September 14 Governing Board meeting.
The district has submitted its application for funding, but final approval has yet to be received, McCord said.
The district plans to allocate $ 4.4 million to address learning loss, a condition for receiving funding. This will include $ 2 million for the adoption of the English language curriculum to update it to meet the needs of all students, $ 1.2 million for on-demand tutoring for high school students and $ 700,000 for Kindergarten to Grade 12 student support programs that will expand learning opportunities. outside of the school day, including after-school activities, intersessions and summer programs.
The remaining $ 17.64 million is classified as discretionary spending, for which the district has identified nine different uses.
The largest spending is $ 7 million for a one-time 3% bonus that will help the district stay competitive among East Valley districts, and $ 4.37 million for a one-time COVID-19 mitigation allowance which will be paid to certified teachers.
Also included are items such as $ 2.9 million to start refreshing tech devices the district distributes to elementary students, $ 650,000 for science resources for grades 7 to 12, and $ 300,000. to administer the PSAT tests to grade 10 students.
McCord said the district must spend the money it receives on ESSER III by September 30, 2024.
In other articles:
The board unanimously approved an increase of $ 1.50 per hour for all hourly employees, an inflationary increase of $ 0.70 per hour in base rates for all hourly support staff positions and a One-time additional compensation of $ 1,500 prorated for salaried positions for the 2021-22 school year to offset inflation.
The board unanimously approved up to eight days of paid sick leave, under certain conditions, for employees due to the COVID-19 pandemic. McCord noted that the district is still struggling with COVID-19 and the new delta variant and that federal benefits under the Families First Coronavirus Recovery Act expired in January. He said approval of the benefit gives the district increased capacity to manage outbreaks and will help maintain the district's workforce to meet student needs.