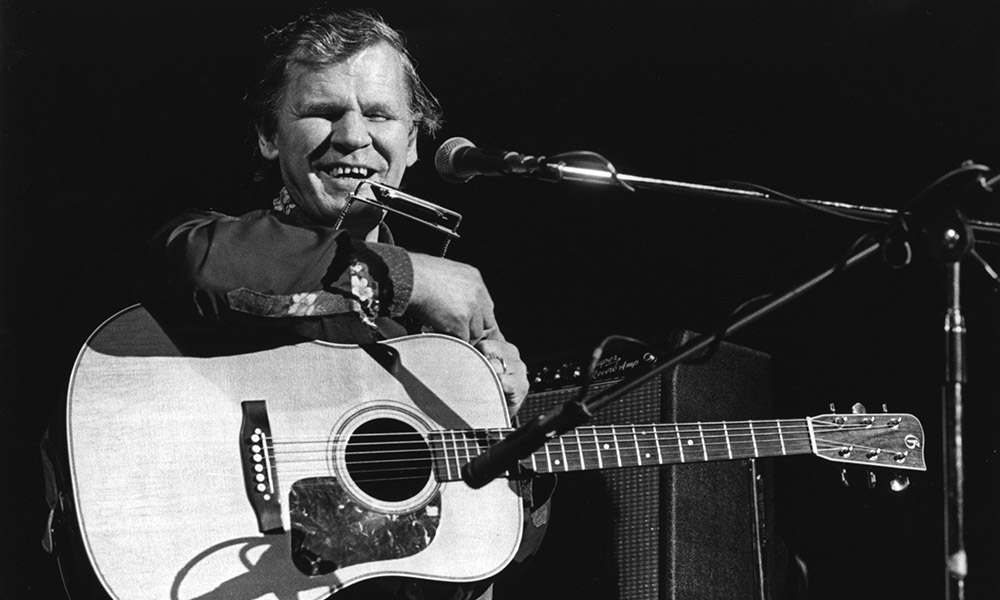 Doc Watson's unique approach to guitars and flat-picking
Later this year, Craft Recordings will be released Life's work: a retrospective, a new career-spanning collection that celebrates the life, music and lasting influence of iconic guitar virtuoso Doc Watson. In addition to the over 100 tracks, the set includes numerous album art notes by Grammy-nominated compilation author and producer Ted Olson, as well as previously unseen photos. In this excerpt from the box set, Olson talks about Doc Watson's guitars and the unique style he used to play them.
Finger picking
Doc Watson was an excellent performer on banjo, harmonica, and autoharp, but the violin turned out to be a tough nut to crack. Doc's failure on the latter instrument, however, led him directly to developing an innovative stylistic technique on his main instrument. As he explained in 1980 (on national television Toni Tennille show), "I wanted to play the violin when I was, oh, 18 or 19, but the best I could get was the sound of a hungry pig, so I decided to do some of the old tunes of violin on the guitar with a flat plectrum.
Order Doc Watson's The work of life: a retrospective here.
When he first learned guitar, Doc had used his fingers to play what he had heard on the Carter Family 78s, but he finally determined that "I could play that Carter thing much better with a pick. flat". When he started to choose violin melodies on the guitar, Doc tried to play the necessary notes of certain tunes with flat strokes on the strings, before realizing that he could improve his right hand technique. by hitting the ropes from top to bottom with his flat pickaxe; this allowed him to sound all the notes with one tune in evenly articulated strokes. This is how Doc's signature flat-picking technique was born. His longtime companion, Jack Lawrence, assesses the impact of this technique:
While Doc didn't really invent flat-picking, he brought the acoustic guitar flat to the fore and showed everyone how it's done. Although others in bluegrass music have used a flat pick, most notably Don Reno and George Shuffler, Doc broadened awareness of the approach through his virtuosity. There wouldn't be any guitar solos in bluegrass if Doc hadn't led the way, even though he never considered himself a bluegrass musician.
Doc was quick to recognize that in developing his own style of flat-picking he had been influenced by two country guitarists: Hank Garland (Doc loved Garland's recording of "Sugarfoot Rag" in 1949) and Grady Martin. (a former violinist particularly skilled at interpreting violin tunes on the guitar). As Doc said (in an interview for the instructional video The Art of the Guitar by Doc Watson), "I was like, hey, if they can play such smooth violin tunes, I think I can play one or two, so I worked on it." Doc was also inspired by three other guitarists who used a flat pick: Nick Lucas, the first jazz guitarist to make solo recordings; Django Reinhardt, the legend of gypsy jazz; and Fay "Smitty" Smith, who, when performing with Ernest Tubb in the early 1940s, pioneered the sound of the electric guitar in country music.
Doc also practiced finger guitar regularly, learning techniques while listening to 78s by legendary guitarists such as Riley Puckett, Maybelle Carter, Charlie Monroe, Mississippi John Hurt and Chet Atkins. But Merle Travis, whose finger guitar technique was popularly known as "Travis picking", had the most profound impact on Doc. According to Lawrence, "Doc learned most of his finger playing style from Merle Travis and was very faithful to that style, using only the thumb and forefinger of his right hand. Doc cut the bass strings with his palm and played a strong alternating bass pattern with his thumb as he played the melody with his index finger.
When playing finger guitar, Doc, like Travis, used an opening pick for his thumb and an opening pick on his index finger. Doc also emulated Travis' charismatic approach to singing (full-bodied vocals, with carefully spoken but fluid articulation of the lyrics). When he finally met his guitar hero in a Nashville studio in 1971 during the recording sessions for the album Will the circle be unbroken, Doc said he named his son after Travis (Eddy Merle Watson – the first name was in honor of country singer Eddy Arnold). Doc said, "Well I thought some of that good guitar might rub off on him [Merle Watson]"—To which Travis replied, with a knowing chuckle," Look who's talking! "
The guitars of Doc Watson
Doc has teamed up with several guitars. After growing up around acoustic guitars, Doc in the 1950s joined a country / rockabilly band and played on a Les Paul electric guitar. Then in the 1960s, to gain traction in the folk music circuit, he used two Martin D-18 guitars – first an early 1940s model he borrowed from his friend Joe Cox, then a 1945 model that he bought in New York and continued to use in the 1960s, the one that appeared on the cover of his (eponymous) debut album Vanguard.
In 1968, Doc began his long affiliation with the Tennessee-based Gallagher Guitar Company, when the head of the company, JW Gallagher, met Doc at a festival and loaned the guitarist a mahogany instrument (model G-50 by Gallagher). It was a demo guitar with a crack in it, but Doc liked the sound and nicknamed the instrument "Ol 'Hoss" (Doc can be seen holding the guitar on the album cover for Ballads of Deep Gap). Doc played "Ol 'Hoss" for a few years, including during the 1971 Will the circle be unbroken sessions. The guitar, after being returned to the Gallagheres, was eventually exhibited at the Country Music Hall of Fame and Museum and, in 2012, auctioned off by Christie's, sold for $ 40,000 to comedian Ed Helms. Doc continued to play Gallagher instruments, and in 1974 the company introduced the first of several "Doc Watson Signature Model" guitars. Years later, Doc also played instruments made by three great American luthiers: John Arnold, Dana Bourgeois and Wayne Henderson.
Doc tried to extract the best possible sound from all of his acoustic guitars. As T. Michael Coleman recalls, Doc would place a small transistor radio inside a guitar, with the radio on to produce sound waves that could speed up the seasoning of the instrument.
Order Doc Watson's The work of life: a retrospective here.