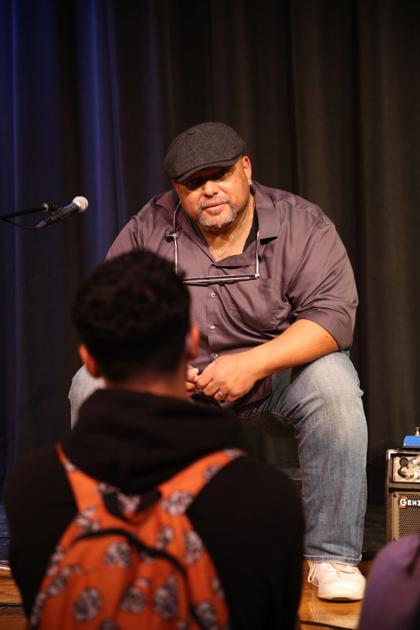 Blues in the Schools workshop impresses PHS | New
[ad_1]
PLATSBURGH – Plattsburgh Blues and Jazz delivered award-winning singer-songwriter Kevin Burt to Plattsburgh High School last Friday afternoon.
The 2018 International Blues Challenge Top Solo / Duo Act, best acoustic guitarist and best harmonica player captured the Hornets in their Blues in the Schools, an educational program that connects students to the cultural roots of the blues.
PB&J also donated a guitar to the school's music program through "Kids Rock The Nation".
Burt spent the morning with the Nighthawks at Peru Central School, but made his way through another set at PHS.
BURT: "A big thank you to each of you for letting me in and disrupting your day a bit, having fun with you a bit. I am a professional noise maker. I can run around the planet and make noise for people. I can move the air. The kind of noise I make that people call blues.
"Is there anyone here who thinks he hasn't had a lot of exposure to the blues. Anybody? Well. By digging. By digging. OK. If you are here you are exposed to more blues music than you think.
"The blues is part of American music which, number one, the blues did not exist before it existed here. Well. A lot of people have different stories of how it started. I wasn't there so I can't say for sure that's how it started. But based on the research I did, it started out in essentially the same mindset as you.
"If someone asks you to do some gardening or potentially homework, one of the first things you do is grab your headphones and put them on. And you listen to the music because the music allows you to be somewhere else, and that makes a bad situation a little better.
"They didn't have headphones during the days of slavery. But they were screaming on the ground, okay. Campaign cries were their headphones. So to get through the worst times, they sang. Well. One thing the vocals have done is have given us a bad reputation when it comes to the blues. If someone says, "Now I want to play blues music for you" and someone says, "I have the blues," usually we think that's sad. Well.
"But the blues is not a sad thing. It's an emotional thing. So we're going to get this sad thing, we're going to eliminate it right away. Well. And we will also let some of you who think Ahhh know, I haven't had much blues exposure, we will let you know that you have been singing a blues song since you were a little kid. Well. No one called it a blues tune.
When you realize you know the lyrics to that song you've been singing since you started school. Maybe some of you before you start school. You have to sing with me. It's cool ?"
PHS: "Yes. "
BURT: "Anyone okay with that? "
PHS: "Yeah! "
BURT: "It's not really an option not to do it."
PHS: (Laughs).
BURT: "You can't really say no. "
PHS: (Laughs).
BURT: "Okay. So everyone's cool with this, aren't they? "
PHS: "Yeah! "
BURT: "Okay. It's a contract. I can sue you., So here we go.
GUITAR GUITAR
BURT: "When you realize you know the words teach yourself too, when you realize you know the words you have to jump on it with me. It's OK ABCDEFG, HIJKLMNOP, QRS, TUV, it's OK WX, Y and Z. These are the funky, funky and blues ABCs. Babe. these are the funky, funky and blues ABCs. So, I hope you will understand it, and I hope you will never forget it. So you can sing along with me, okay. Let's do it again. "
PHS: (Solo).
BURT: "Thanks for singing with me. Did this make anyone particularly sad? Blues is sad music, it's out the window. Let's go. You felt something, and it was pretty good. That's the beauty of the blues.
"Anything you want to celebrate can be celebrated with blues. Anything you want to cry can be cried with blues. Anything you want to recognize, you can with the blues. That's the beauty of it. It is very moving music. Well.
"Again, every blues song that exists doesn't necessarily call itself a blues song or sound exactly like the blues songs you imprinted in your mind as blues songs, you know.
"As the music evolved, we changed the name from time to time. When you think about what rock'n'roll is. Technically it's a bunch of old blues songs played louder and faster, you know. That's what Led Zeppelin did when they took Robert Johnson tunes and played them louder and faster, and said 'Hey watch that rock' n 'roll, and the world said, 'Woo-hoo! Rock n Roll! We love it! ' Same thing, go by any other name.
"Sometimes all it takes is a change of perspective for people to realize that there is a blues influence within it. Well. Take a band like the Beatles. Well. The Beatles are about as far removed from the concept of the blues as many people might think. The only thing is that the blues are stories told in music based on your point of view.
"The story, how it's going on your mind from your point of view, how did you grow up. So The Beatles wrote songs like they were a bunch of guys who grew up in Liverpool, England. It was a bunch of guys who grew up in Liverpool, England.
"They didn't grow up in Waterloo, Iowa. Poor people and black people listen to their song and see their song unfold in a different way.
"So here is my take on a Beatles song from a blues point of view. The other thing that was cool about The Beatles was that they were very open to talking about how they were influenced by American blues artists. So that's one thing. If that influence is there, there is a bit of blues in everything they do. This song from my point of view goes like this.
GUITAR GUITAR
BURT: "Haaaaaaa, don't you want to take a look at all the lonely people, baby. Haaaaa-oooooh, you gotta take a look at all the lonely people. Eleanor Rigby, pick up the rice in the church where a wedding took place … "
The blues master regaled students with stories from his life, once a pre-season American football center, life-changing injuries, strokes of luck, finding music, trials and tribulations of marriage, of fatherhood and of life.
He encouraged the PHS students to be the best version of themselves, to treat each other with respect and kindness, and to "Make this place the way you think it should be. Don't wait. Do it like this My generation I didn't choose well All I can do is apologize to you for that.
A crowd of students stayed after the meeting to chat with him, get his autograph, strum his guitar and sing along with him.
TRINITY MIDDLEMISS (Senior, alto saxophonist): "I started to cry after hearing the song he wrote about his daughters. I was just baffled because I was hearing so many good things, but it was just better than anything I could have expected. I was just speechless.
MACKENZIE HENDRIE: (Senior, pianist): "It was amazing. I think the first song ('Eleanor Rigby') he played, I almost cried. It gave me feelings that I had never felt before. It was just amazing. It was wow.
Email Robin Caudell:
Twitter: @RobinCaudell
[ad_2]