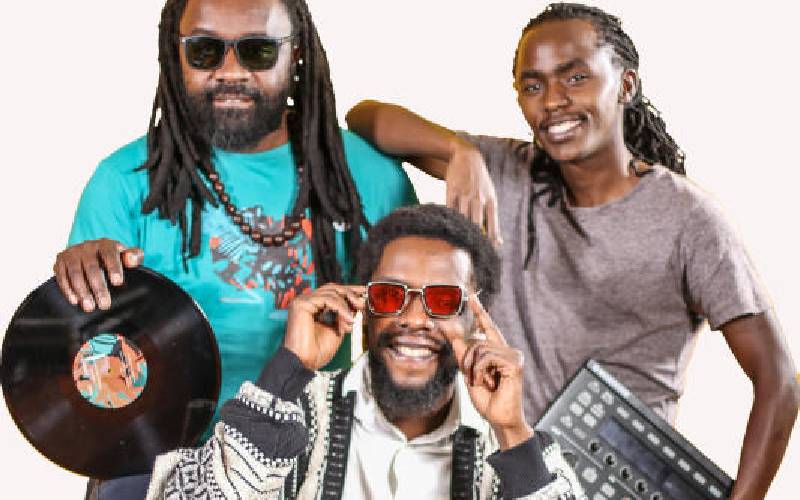 Bengatronics will release a cultural album
Many know the Benga sound; elaborate guitar licks, often too quick to catch, and crisp percussion, which moves feet and hips almost of their own accord. Bengatronics has been at the forefront of preserving Kenya's heritage with the masterful adaptation of traditional dance rhythms played on traditional instruments while maintaining the ambiance.
Their new project called Kiunga Fire is another clash of African folk and pop cultures. The album is an intense collaboration between Les Bengatronics du Kenya, Ugandan singer, songwriter and visual artist – Sandra Suubi, and Cheb Runner, an electronic music producer from Morocco currently based in the Netherlands.
Michel Ongaro, composer, performer and multi-instrumentalist from Kenya appears on most if not all of the tracks on the album. Kiunga Fire is a deeper exploration of the symphony of folk instruments, sounds and musical cultures as they manifest in the urban space.
This project is the first of its kind as it seeks to enhance intercultural and intergenerational dialogue and knowledge exchange, exploring techniques for sampling folk and pop instruments from Kenya, Uganda and Morocco.
The entire masterpiece borrows richly from African sounds and incorporated dozens of traditional instruments such as Adungu, the Mqess, Nzumari, Bongos, Bendir, Benga Guitar, Masinqo, Orutu, Guembri, Tam Tam (Tbilats ), Taarija, Tbal and Nakouss just to celebrate the rich diversity of our cultures.
The album features Ohms Law Montana (Ke), which was previously part of Kiunga's debut album (Mombasa 2019) who returns to collaborate with Mandy (Ke). HaddinQo (Et) also returns with the track MasinQo but is now in the hands of Cheb Runner (Mor), a co-producer of the album who also meets Ayrosh (Ke) for the first time.
Fresh out of the oven, a Kamba serenade by Simply Yaba, the rising star of RhumbaCane, a fresh sound from Nairobi. Calvo Kali and Missing Rotich bring a Benga flavor from Kenya, while Sandra Suubi unleashes the Baximba energy of Uganda.
"Born on a Tuesday"

Dantala, the voice of the Muslim boy in the author's first novel, is our entry into the politically and religiously fueled war in Nigeria.